Research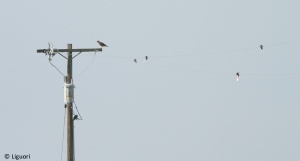 APLIC funds research projects that further the knowledge of avian/power line interactions, including causes and solutions to avian mortalities due to power line electrocutions and collisions.  Examples of applicable research topics include:
assessment of electrocution and/or collision rates associated with distribution and/or transmission lines
effectiveness of various retrofitting practices intended to reduce avian mortality or mitigate problem bird nests on utility structures
risk assessments to identify factors contributing to electrocution and collision mortality risks for different species
evaluation of impacts of power line construction on bird species
Proposals are accepted throughout the year. However, two deadlines have been established to facilitate the efficient review of the proposals by the membership and provide a timely response to the applicant. Proposals received by February 1 will be reviewed and selections will be made during the Spring APLIC meeting (April/May). Proposals received by July 1 will be reviewed and selections will be made during the Fall APLIC meeting (October/November).
For funding request instructions and form, click here
For a list of current and past APLIC-sponsored research projects, click here